Seminar & Forum
International Disaster Resilience Leaders Forum Incheon 2023
2023.09.18
On September 18, 2023, TCS Secretary-General LEE Hee-sup participated in the International Disaster Resilience Leaders Forum Incheon 2023, and delivered the congratulatory remarks at the opening session. The forum was hosted by Incheon Metropolitan City, The Incheon Institute, UN Office for Disaster Risk Reduction (UNDRR), and the Ministry of the Interior and Safety. TCS was a co-organizer of the Forum. ASEAN Secretary-General Dr. KAO Kim Hourn delivered the Keynote Speech at the opening session as well. Representatives from Northeast/Southeast Asian governments and of local governments as well as experts on disaster risk reduction (DRR) from various countries beyond Asia attended the forum and shared their insights in disaster risk reduction.
The implementation of the Sendai Framework for Disaster Risk Reduction 2015-2030 is now halfway through, and countries and cities around the world are expanding their efforts to reduce disaster risks. However, in order to make countries and communities resilient against climate change, economic crises and conflicts, further disaster prevention and disaster management efforts are needed. The first forum was held in 2022, and this is the second time under the theme 'Opportunities and challenges of using technology for climate and disaster risk reduction at the regional level'. The Forum seeks to accelerate the implementation of the Framework and also the Paris Agreement through the exchange of views at the Forum.
In his remarks, SG LEE expressed his sincere congratulations and gratitude to the co-organizers, and highlighted the importance of regularly sharing the DRR insights, experiences and policies to learn from each other for further enhanced capacities. He also emphasized on promoting trilateral cooperations (cooperations between China, Japan, and ROK(CJK)) in DRR field mentioning Trilateral Ministerial Meeting on Disaster Management by the governments of CJK and noted that TCS is committed to further enhancing regional and international cooperation in DRR in collaboration with key stakeholders.
In the forum, the first session (Part 1) saw the introduction of CJK Education and Training Institutes Online Workshop, which TCS hold with the UNDRR, and ministries, and institutes of the three countries on August 2nd, sharing the outcomes of the webinar, demonstrated how technology can support earthquake preparedness and response.
Also, during the forum, SG LEE met Ms. Loretta Hieber Girardet, Chief of Risk Knowledge, Monitoring and Capacity-Development Branch, UNDRR and Mr. Sanjaya Bhatia, Head of the UNDRR Office for Northeast Asia and Global Education and Training Institute (ONEA-GETI).
Ms. Loretta Hieber Girardet thanked SG LEE for the TCS's continuous active engagement with UNDRR, stressing the importance of the cooperation among CJK and UNDRR, expecting enhancement of sharing the knowledge and experience in the region with the world beyond the region.
SG LEE extended his gratitude for the UNDRR's partnership with TCS, committed further strengthening cooperation with UNDRR, stating that TCS will promote further cooperation among CJK on DRR toward the upcoming meetings such as the Trilateral Ministerial Meeting on Disaster Management and the Trilateral Summit.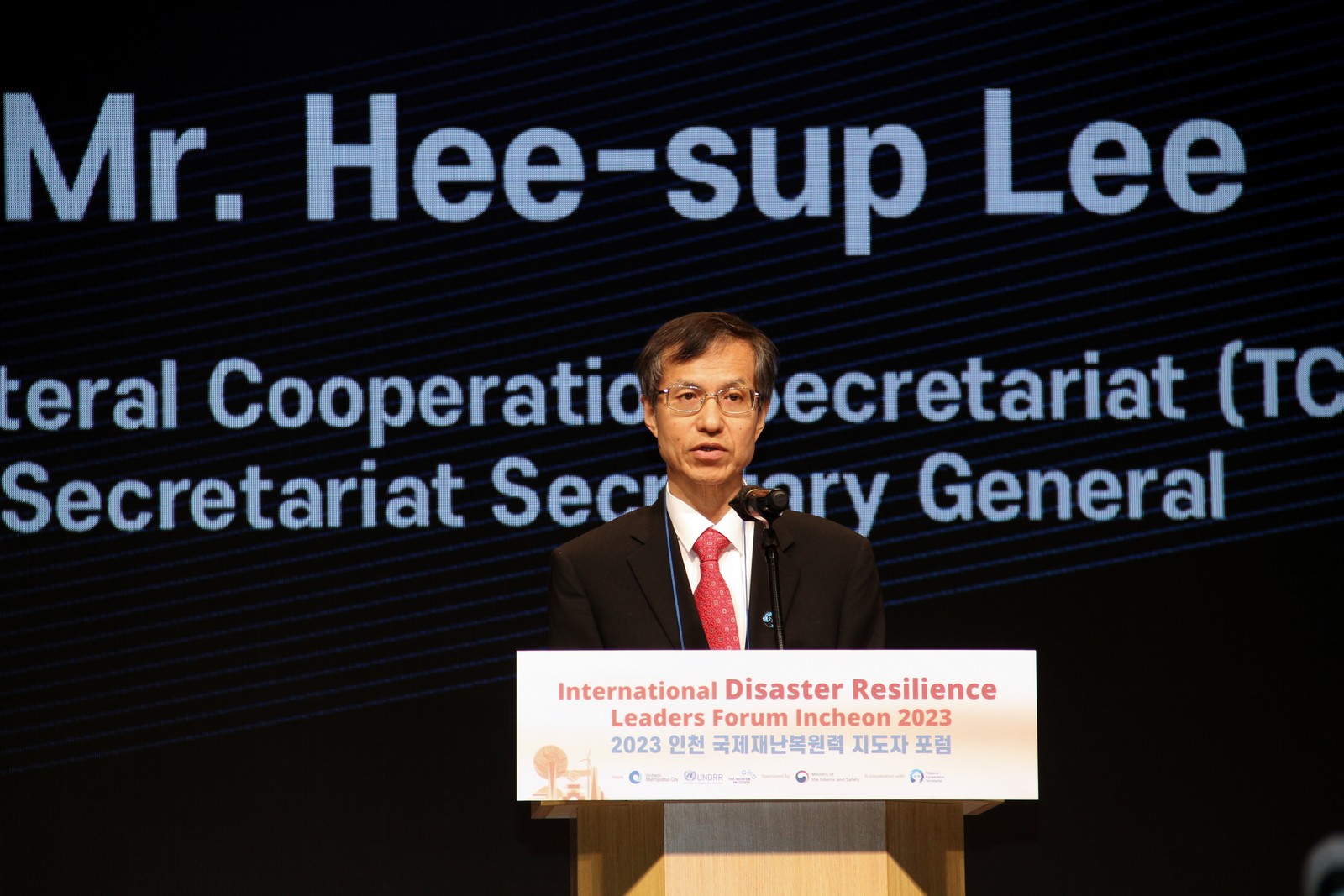 ▲ SG LEE Hee-sup delivering Congratulatory Remark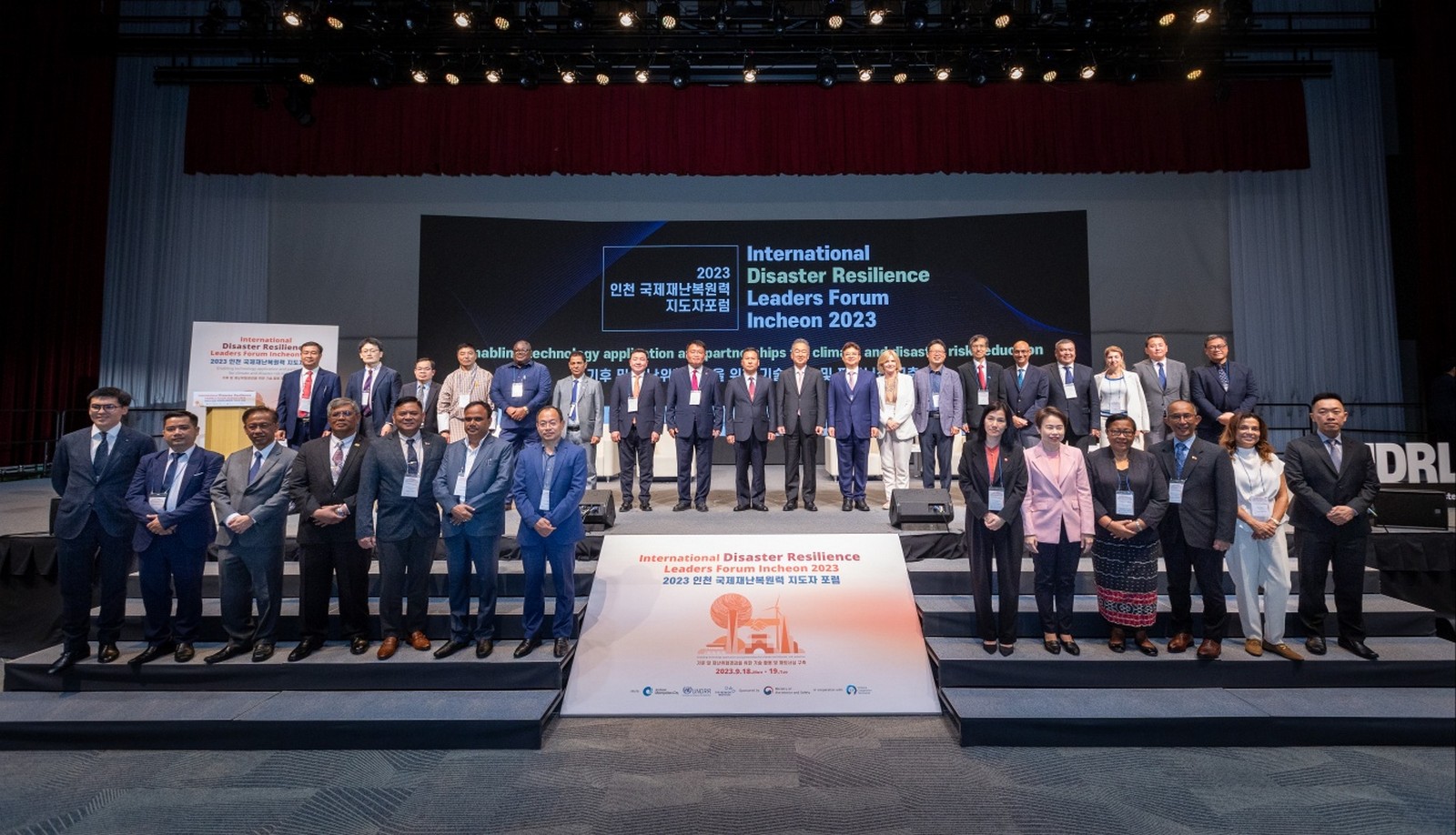 ▲ Group pictures with the participants of the Incheon Forum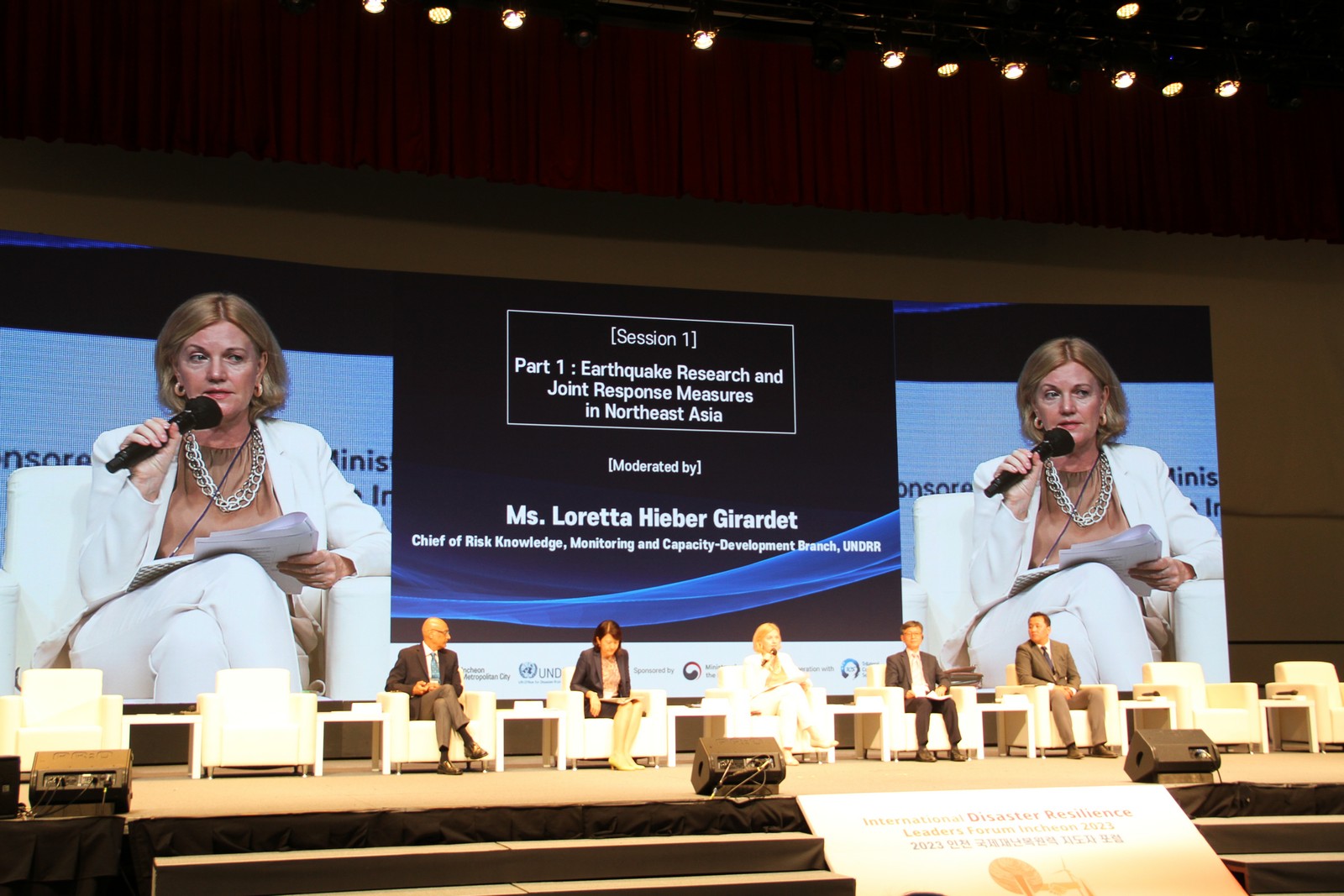 ▲ Incheon Forum in progress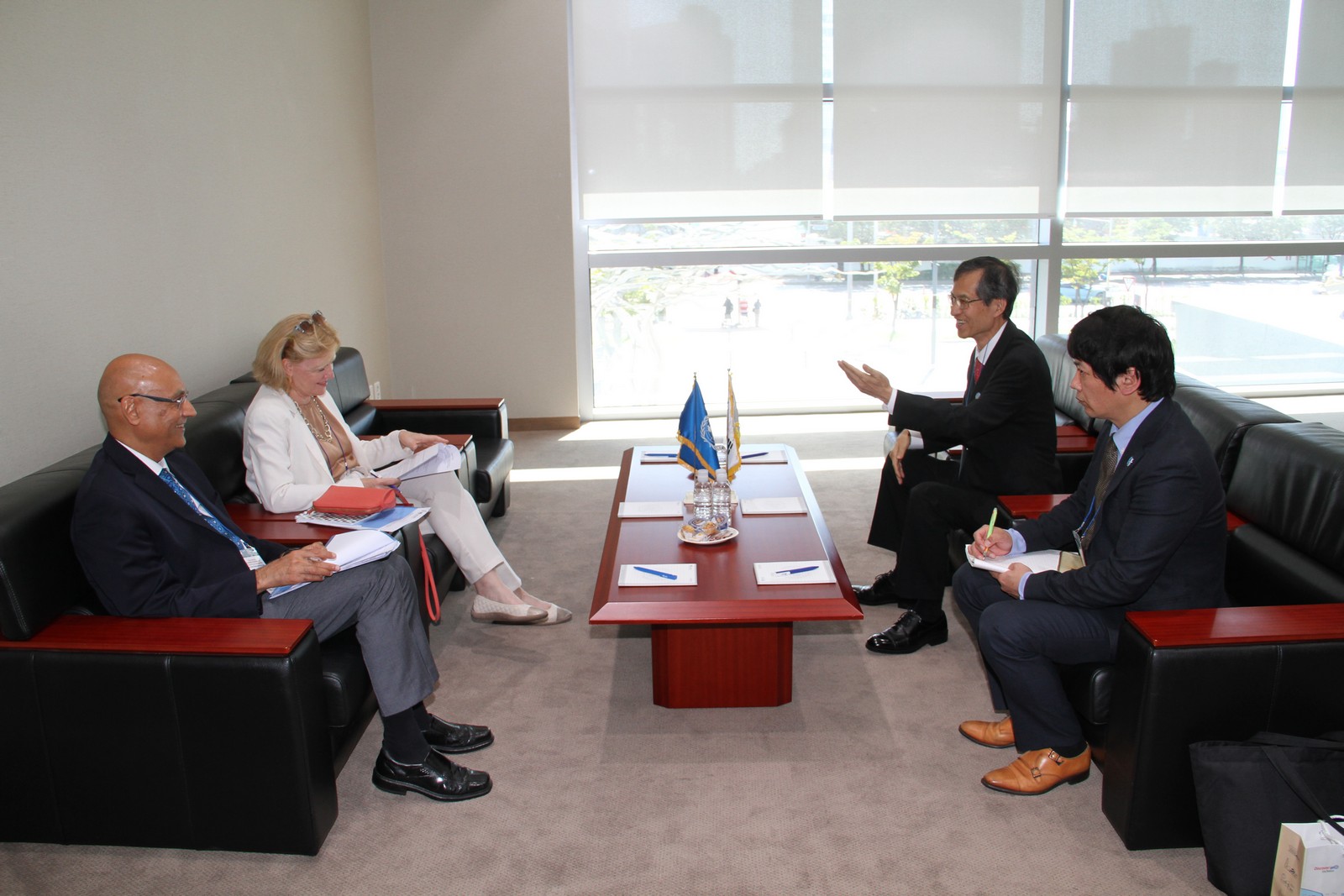 ▲ SG LEE and Ms. Loretta Hieber Girardet's Meeting in progress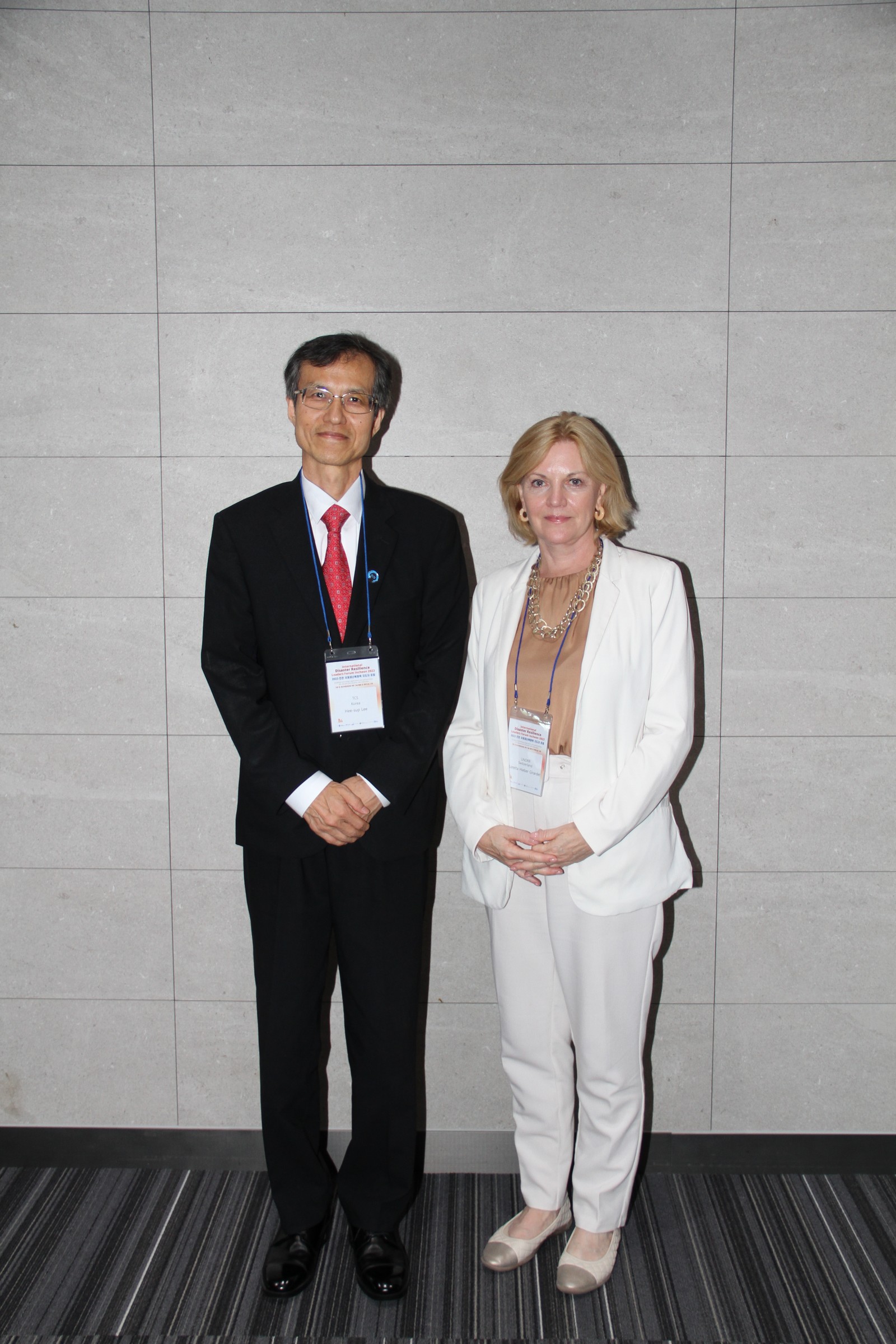 ▲ SG LEE and Ms. Loretta Hieber Girardet