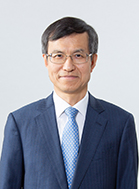 Welcome to the official website of the Trilateral Cooperation Secretariat!
The Trilateral Cooperation Secretariat (TCS) is an intergovernmental organization that was established in September 2011 in Seoul, Republic of Korea (ROK), by its three Northeast Asian member states of China, Japan, and ROK. TCS was founded under the aim of promoting both peace and co-prosperity in the region.
The three member states not only are geographical neighbors but also share a wide range of cultural elements. More notably, they are highly complementary and interdependent economically, accounting for about one-fourth of the world's GDP and one-fifth of world trade, indicating the significance of close trilateral cooperation.
Since its inception at a breakfast meeting of the leaders of the three nations on the sidelines of the ASEAN+3 Summit in 1999, the trilateral cooperation has steadily expanded in spite of volatile regional and global political situations and ups and downs in the relations among the three countries. Since TCS was established, the trilateral cooperation has thrived remarkably as intergovernmental collaboration and private exchanges have been deepened and expanded across a wide range of areas, including economy, trade, politics, security, society, culture, youth, sports, and human exchange. Most notably, the three states have steadily strengthened the trilateral cooperation in areas that directly affect the lives and welfare of their people, such as the environment (including control of fine particle pollution), healthcare (including aging), education, and urban regeneration.
A robust cooperation framework is now in place with the Trilateral Summit at its core, supported by 21 ministerial meetings and over 70 dialogue mechanisms, which have resulted in the active implementation of more than 100 exchange and cooperation programs. TCS participates extensively in the dialogue mechanisms, while supporting or operating its own cooperation programs.
Although the world is gradually recovering from the COVID-19 pandemic, there is a pressing need for closer trilateral cooperation given the complexity of the current crisis amid growing instability and uncertainty. As a strong pillar for trilateral cooperation, TCS will continue to actively support the governments of the three states and fulfill its own role for the realization of the "Vision for Trilateral Cooperation for the Next Decade."
With the appointment of its 7th Secretary-General on September 1, 2023, TCS will focus on facilitating the Trilateral Summit and other dialogue mechanisms as well as various cooperation programs to normalize and revitalize trilateral exchanges and cooperation, which were put on hold due to the pandemic.
TCS will continue to further strengthen its capacity and grow and develop as an organization that drives and facilitates the trilateral cooperation. We welcome your valuable suggestions and ask for your interest and support. Thank you very much.
sign Lee Hee-sup Secretary General Trilateral Cooperation Secretariat