Mechanisms
14th Trilateral Culture Ministers' Meeting
2023.09.07 ~ 2023.09.08
On September 8, 2023, the 14th Trilateral Culture Ministers' Meeting (TCMM) was held in Jeonju, the Republic of Korea. The meeting was chaired by Mr. PARK Bo-gyoon, Minister of Culture, Sports and Tourism of the ROK, with Mrs. NAGAOKA Keiko, Minister of Education, Culture, Sports, Science and Technology of Japan and Mr. HU Heping, Minister of Culture and Tourism of China in attendance. The Delegation of Trilateral Cooperation Secretariat (TCS), led by Deputy Secretary-General ZUSHI Shuji, attended the meeting as an observer.
During the meeting, the three Ministers reached a consensus to deepen their cooperation in advancing the "Culture City of East Asia (CCEA)" brand, fostering youth exchanges, promoting the culture content industry, and preserving cultural heritage. As a significant outcome of the meeting, they adopted the "Jeonju Declaration," which encompasses several key initiatives, including: strengthening cultural exchange among future generation; fostering cooperation for the cultural resolution of international challenges; enhancing the network of collaboration among cultural institutions such as museums, libraries, and art galleries; strengthening cooperation in the cultural content industry for future mutual growth; and organizing cultural and artistic exchange events in conjunction with international sports events.
In the following CCEA Award Ceremony, Dalian City and Weifang City (China), Ishikawa Prefecture (Japan), and Gimhae City (ROK) were designated as the 2024 CCEAs. The 15th TCMM will be hosted next year by Japan.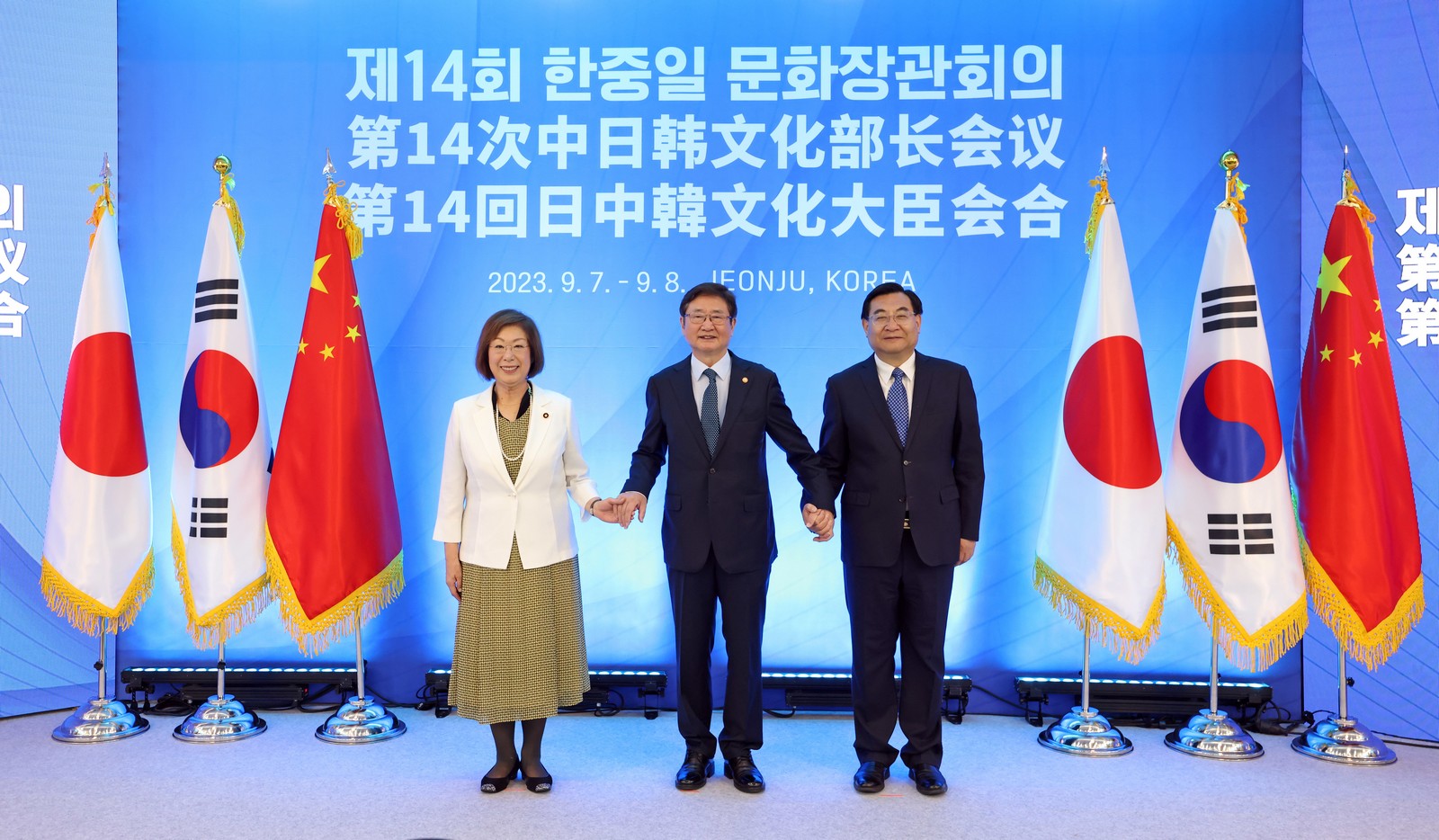 ▲(From left) Mrs. NAGAOKA Keiko, Minister of Education, Culture, Sports, Science and Technology of Japan; Mr. PARK Bo-gyoon, Minister of Culture, Sports and Tourism of the ROK, and Mr. HU Heping, Minister of Culture and Tourism of China